The Planfy team has introduced a new Video Call Booking feature — it is a built-in video calling solution that is easy to use straight in your business portal.
The Covid-19 virus, unfortunately, has forced many people who run business to follow social distancing rules and avoid overcrowding. Planfy allows businesses and their customers to schedule video call consultations which comes as the closest alternative to face-to-face meetings.
This feature is useful for scheduling video call consultations, product demonstrations which may involve screen sharing, sales calls and many other use cases – most importantly the video call bookings are based on real-time staff availability.
How to start using Video Call Bookings
In your Business portal, please open the main navigation on the right hand side and select the "Services" link.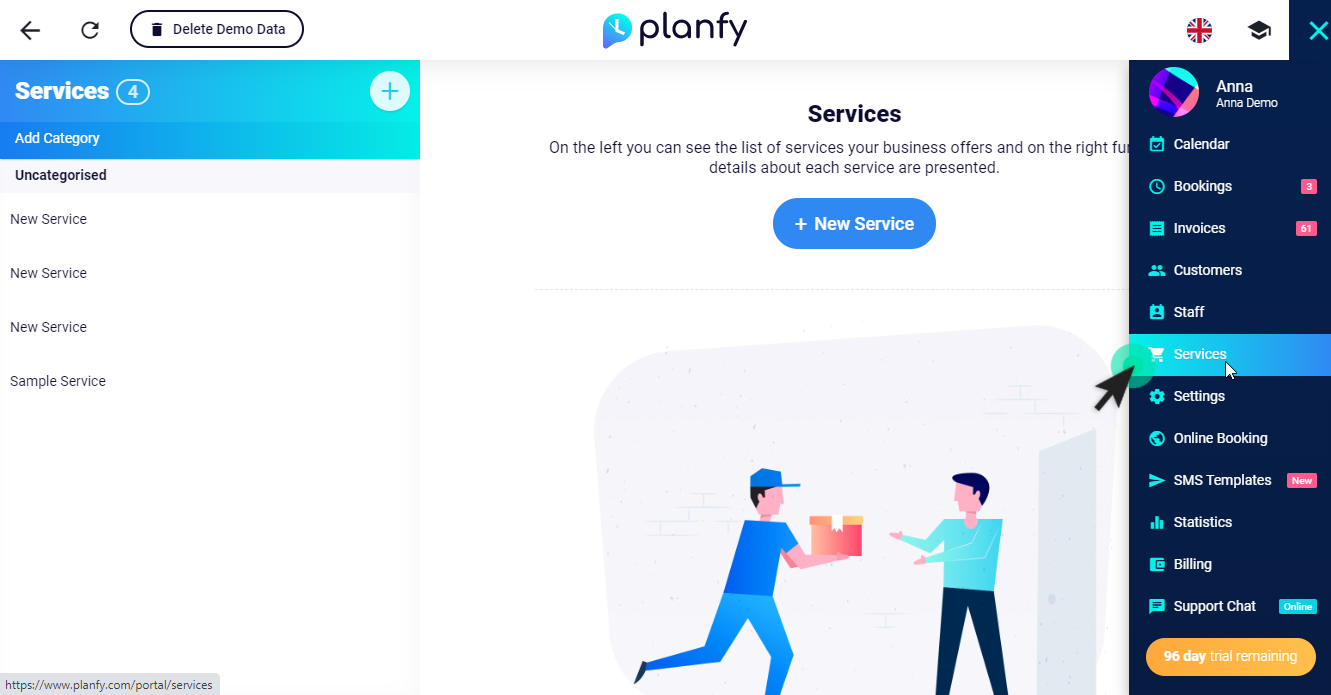 This will take you to the services page where you will be able to edit existing services or create new ones. In this example, we will create a new service. To do so, click on the round +New Service button.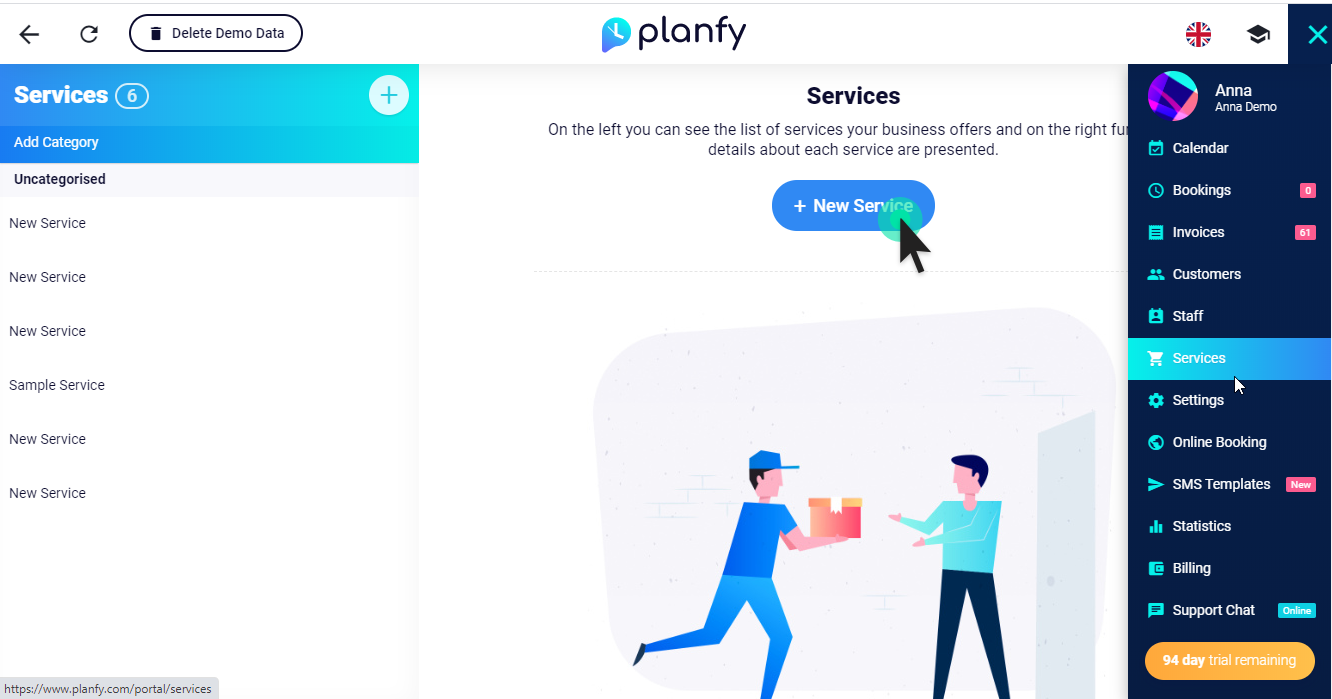 Here you can add your service details such as name of the service, description, duration and price. Also, you can select a category or it can remain uncategorised.
On the right side you can assign a staff member as provider of that service by clicking on their name. When staff assigned, a checkbox will appear.
Now, the next step is to go to "Settings" tab and enable the "Video Call" toggle. This action turns the service into a video call service. The system creates a "video call room", adds video call links to booking confirmations and reminders and sends them to customers via SMS and emails.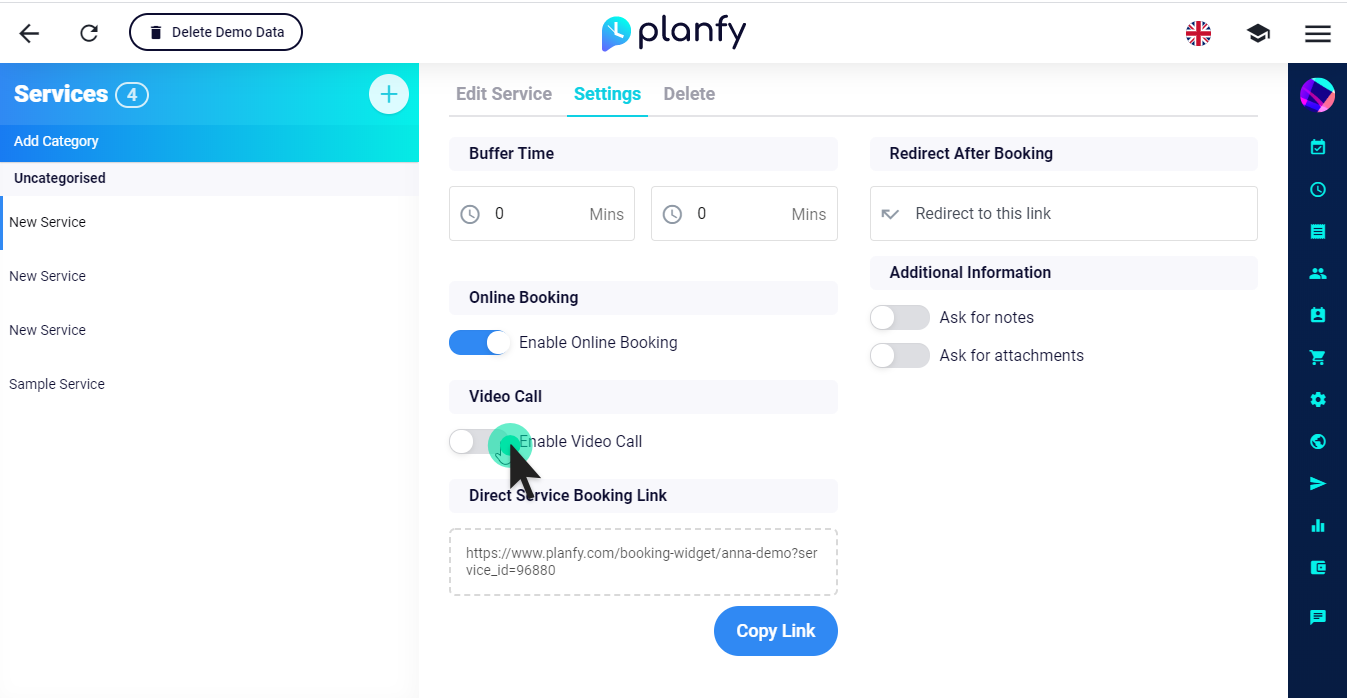 How customers book video call consultations with businesses
The booking process is the same as a normal service booking. The customer would open the booking widget on your website or on Planfy.com and see all services provided by your business. He/she would choose the "Video Consultation" service and continue the booking journey as normal.
Your customer will see available dates and times based on real-time staff availability so they can pick a suitable time slot by clicking it and then, they need to click "Continue" to see the next window: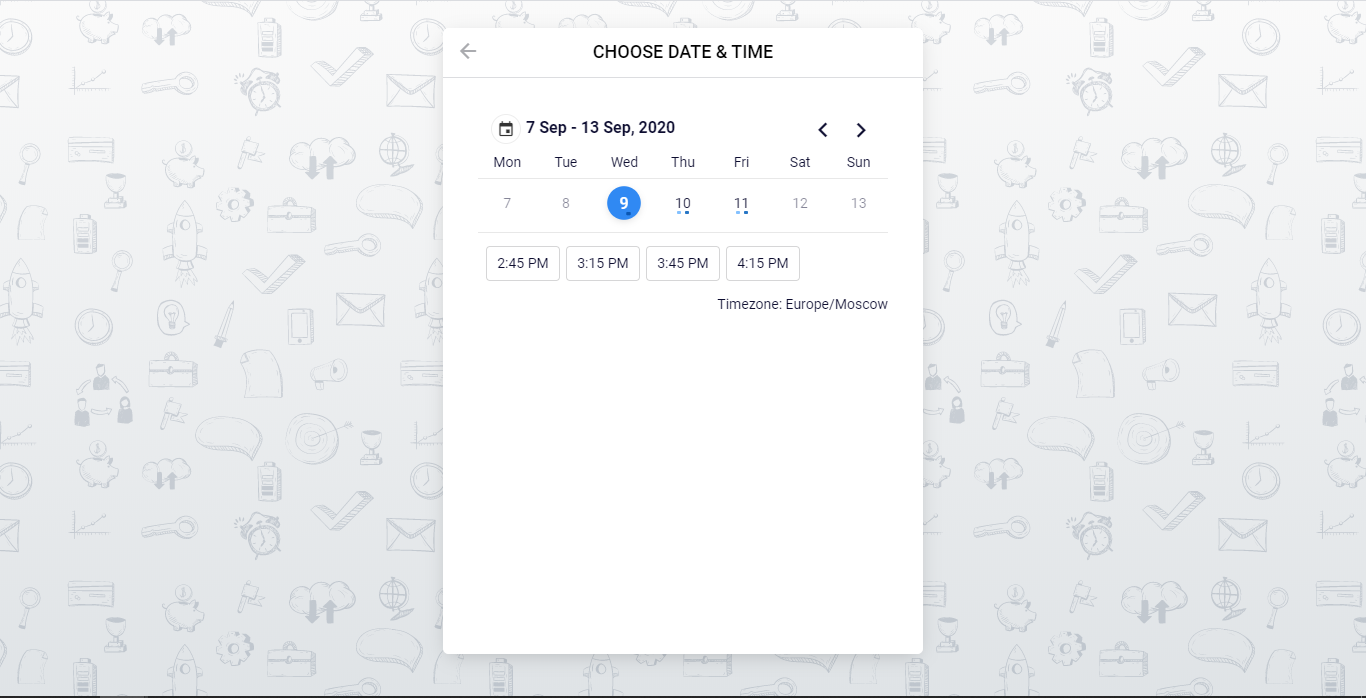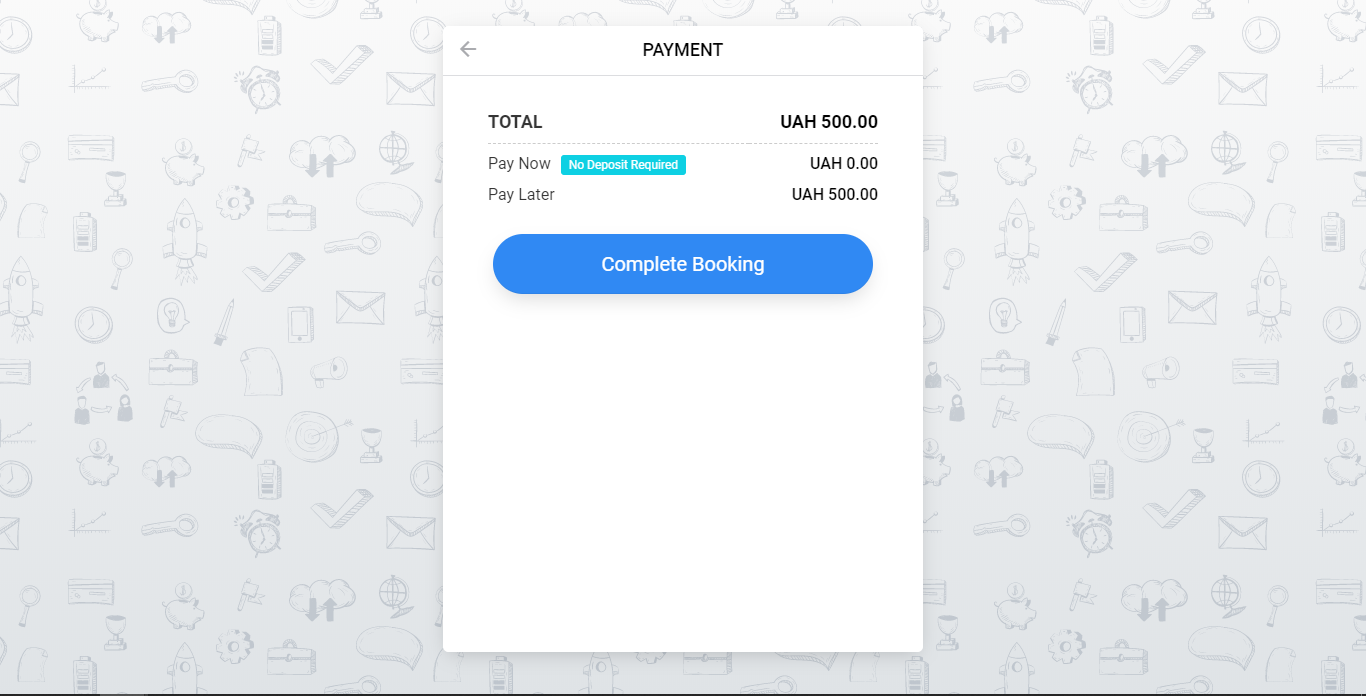 Once they complete their booking, they will receive booking confirmation and reminder via SMS and email. The latter messages will have video call links which will allow staff (service provider) and the customer to join the video call. Example messages are shown below: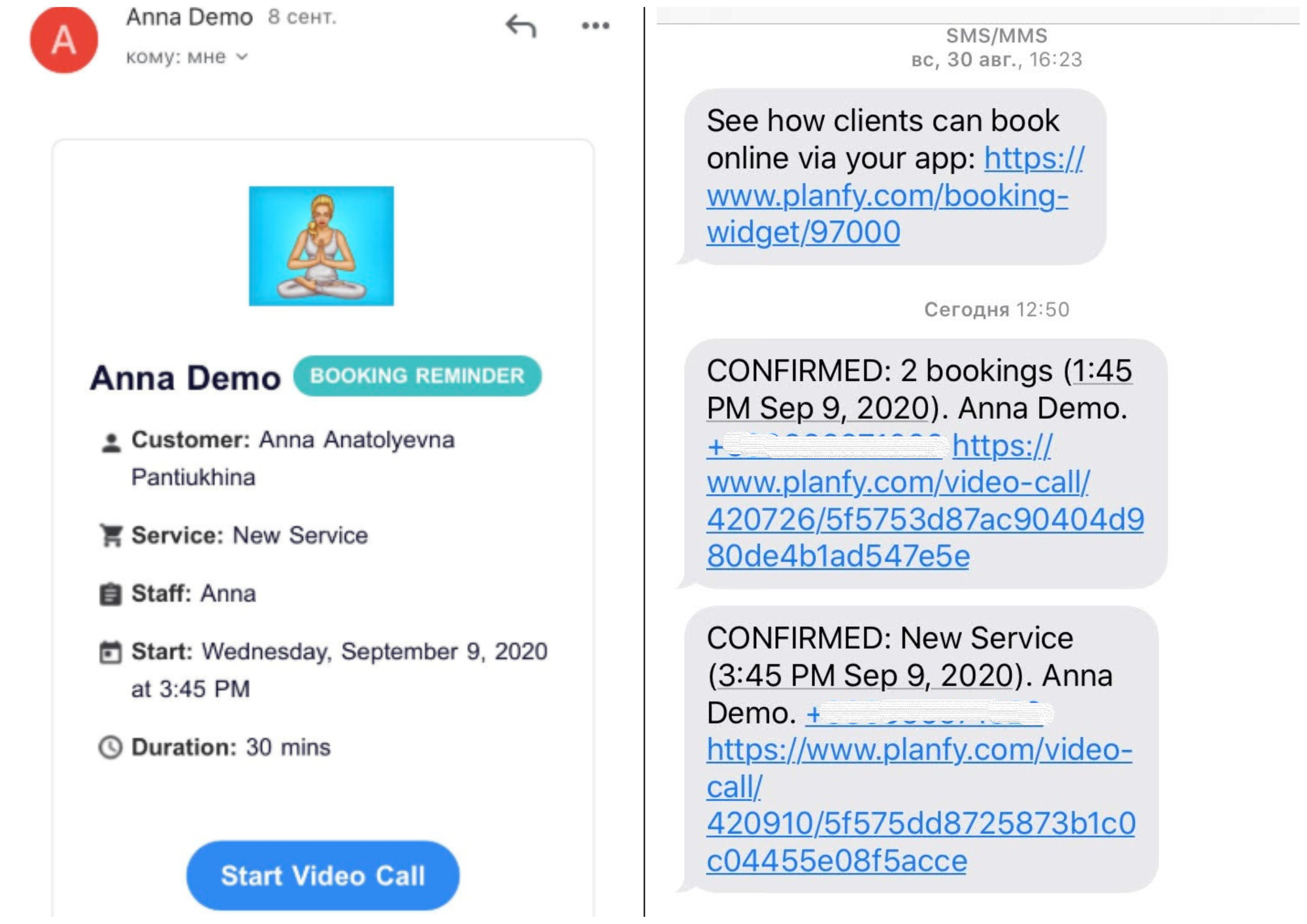 How to customise SMS & email templates
If you want to customise the text messages (SMS) and emails that your customers receive, you can do so on the "SMS Templates" page.
It's worth to mention, that you can even translate your messages into different languages.